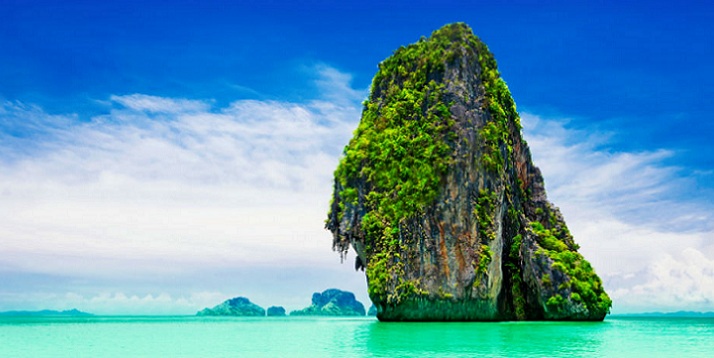 5 Things To Do in Phuket
Phuket has a lot more to offer than Australian bars, ping pong shows, cheap clothing and overcrowded beaches.
On my quest to find more, I created a list of the top 5 things to do in Phuket.

#5 – A New Beach
Depending on where you are within the Island of Phuket, you probably wont go further than Patong, Karon or Kata.
Whilst Karon and Kata are amazing, Patong I could avoid altogether, there's many beautiful beaches, and to only see these three really isn't doing the Island justice; go out and find them.
Most of the tourists spend their time on the above beaches, so at the cost of a scooter for a day or two, explore the likes of Freedom Beach, Kata Noi and Nai Harn.
#4 – Take in the Local Culture; Buddhism
It's easy to get lost in the crowded streets of Phuket with their restaurants, souvenir shops, bars, massage parlours, and 7-11's and forget that you're in Thailand.
The commercialisation of Phuket can often lead to you forgetting where you are, tourists love the main drags. Experience the local culture and religion, Big Buddha is located in Wat Chalong and is the most well kn own temple in Phuket.
Oh, you'll hear people speaking Thai and still spot the distinct cultural quirks that make Thailand such a fascinating country, but you might as well be in any crowded city in the world.
It is claimed that Wat Chalong has a splinter of Buddha's bone, which makes the most significant of Phuket's 29 temples (which are referred to as Wats)
#3 – Take a Phuket Heritage Walk or Cultural Tour
Promoting responsible cultural tourism, locally owned Phuket Heritage Trails aims to introduce visitors to Phuket to something beyond the crowded streets through two different guided walking tours.
Their day long Meet the Locals tour features visits to the island's oldest Sino-Portuguese mansion, delicious food, temple visits, and the chance to visit a traditional fishing village; while their half day Heritage Trails tour takes you through the heart of Phuket Town to see how the locals live.
The Phuket Heritage Trails site also advertises two upcoming tours that are sure to be every bit as culturally immersive.
Editor's Note: I really, really wanted to fit one of these tours into my recent visit, but the next activity wore me out on the eve of my only free day. Next time!
#2 – Take a Cycling Tour of Koh Yao Noi with Amazing Bike Tours
Amazing Bike Tours offers a number of guided cycling tours around Phuket, including a number of overnight tours and a day long, 50km trek that takes you to some of the island's less known corners.
In my case, I opted to tackle the 30km tour of Kho Yao Noi, a nearby island where tourism has yet to have the impact it has in Phuket and Koh Phi Phi. Indeed, while the island is home to hostels and cafes, there are still locals living without electricity amid their rice paddies and rubber tree plantations.
It was about 5km into the 30km exploration of Koh Yao Noi that I began to fear I'd bitten off more than I could chew.
It was about 5km into the 30km exploration of Koh Yao Noi that I began to fear I'd bitten off more than I could chew.
Over the course of one blisteringly hot afternoon, our small group whizzed through these rice paddies and rubber tree plantations, stopping along the way for local Thai snacks, a delicious seaside Thai feast, and a pair of arduous uphill climbs that I'm not ashamed to say I made on foot.
Away from the usual tourist crowd, it's possible to really appreciate not only Thailand's natural beauty, but the simple beauty of life before tourism brought in the big bucks.
Sleepy fishing towns built on stilts, quaint shacks with gap-toothed owners, and oblivious water buffalo all combine to transport you back to a simpler time when crowds of Aussie bogans weren't messing things up.
#1 – Explore Phangnga Bay's Secrets with Phuket Sail Tours
No visit to Phuket is complete without spending a day or more out in the breath-taking karst formations of Phang Nga Bay, and there's certainly no shortage of local tour operators who are only too happy to cram you onto a boat and ferry you between the more famous tourist attractions such as James Bond Island and Monkey Island.
Phuket Sail Tours eschew all of that. They avoid the crowded islands, they cap the number of people on their spacious boat, and they instead take you out to see things that other tour companies can't or won't.
My day long exploration of Phangnga Bay's 'secrets' was without question my favourite experience in Thailand so far. I canoed through serene mangrove forests, swam in isolated coves, sunbathed on quiet beaches, indulged in one of the best Thai feeds I've ever had, and did so while making friends with the other 15 people on my tour.